Construction Screws
Construction Screws Available at Gilford Hardware & Outdoor Power Equipment
Construction Screws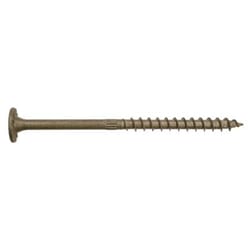 (Also Known As Structural Screws)
Structural screws are also known as construction screws.
They are used in construction as an alternative to lag screws because they are easier and faster to install. 
They do not require pre-drilling to install.
They are usually self-tapping, which means they have tips designed to remove wood as the screw spins, making it easier to install the screw.
•The tips are usually sharp to reduce wood splintering
.  They are thinner than a lag screw, but constructed from strong, heat-treated steel to meet engineering standards.
 Structural screws typically have drive heads with six or eight contact points to eliminate stripping and improved torque. •
They typically have a washer built in to the head.
*CHECKOUT TURNED OFF*
⭐ Please Read ⭐ Website is Currently under construction, We have disabled Checkout for the time being. We're slowly uploading available inventory. *WE CANNOT SHIP *CHECKOUT TURNED OFF* Please Call 603-524-5366 with any questions!